Ahh, to be an entertainer. The entertainment industry is booming with talent. Much of this talent is making its way onto cruise ships in the form of dancers, comedians, magicians and singers. These performers find the cruise ship industry an excellent way to boost professional resumes, network among other talented performers and of course travel. For Entertainers, the cruise ship has turned into yet another competitive and highly sought after venue for performing. Because of the reputation cruise ships have for their quality of entertainment, a position as a performer onboard means being associated with that same standard of quality; something that speaks volumes in the entertainment industry. Naturally, because these positions are becoming more and more popular, attaining them is also becoming more difficult.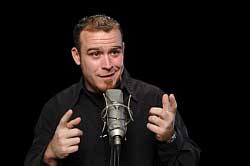 The Entertainment directors and cruise ship Concessionaire companies receive thousands of audition tapes and resume materials from performers each week. When hiring, cruise line employers look for general public appeal and consider the passengers who will be riding each cruise ship a great deal. Because some smaller cruise ships are often specialized for a specific group of people (singles, or seniors for instance) the performers for each cruise are chosen carefully and according to the ships target audience. For this reason, entertainment directors are often very specific when hiring acts and talented performers can be turned away, simply due to demand. On the other hand, cruise ships are eager to diversify their acts and hundreds of different performers with different acts are currently onboard today's ships. However, the competition is stiff and contracts are usually only given to proven professionals.
One of the best venues for a performer who wants a cruise line job is through Concessionaire companies. Because the entertainment demands of a cruise ship are so large, Concessionaire companies are hired on to fill this tall order. In fact, it is becoming so common for Concessionaire companies to be the exclusive hirer for cruise ship entertainment, any one seeking employment who is not utilizing this venue is seriously hindering their chances. Concessionaire companies put together shows, train dancers and screen other performers. They know where the demand for entertainment exists and what type of entertainment is needed. Therefore while applying directly to a cruise line is recommended, entertainers are encouraged to use these other hiring sites. While some of these businesses exist in only one place, many travel the country looking for viable entertainers. The dates and locations of these auditions can usually be found by contacting the Concessionaire company directly, or by searching company sites.
Entertainers on a cruise ship enter a large variety of contracts. Some Entertainers are hired on for only one cruise, while others are on contract for the duration of many cruises, and can be onboard for months at a time. For Entertainers who are less known, but are given the chance to perform as a method of improving their resume and to gain experience, the cruise ships offers free room and board and grants them the ability to perform as compensation. Through Concessionaire companies, the terms of hire are outlined very clearly and entertainers who perform on one ship may be hired on another when their first contract has ended.
When applying, Vocalists, singers and other solo performers need to have sheet music to accompany the orchestra and have proven solid routines. Comedians are asked to have enough material to fulfill at least a 33-minute show and sometimes more. All audition materials must be on DVD, CD or VHS and in many cases are not returned if rejected. Some Concessionaire companies will ask for further audition materials, which will usually be listed on their website or outlined before the audition or interview. Working as a cruise ship entertainer is a great way to spend ones career. Traveling the open seas in front of applauding audiences and gaining valuable work experience is an experience that is difficult to match.