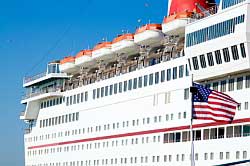 Within the industry, cruise ships are making an enormous impact on tourism. With millions of passengers each year and nearly thousands of operating locations, cruise ship vacationing has seen incredible growth. It has been labeled one of the fastest growing job sectors in the world, a testament to the growth these businesses have experienced in the last few years. Since the early 2000s, each year there have been at least nine newly built ships catering to North American clientele alone, and over 94 new cruise ships constructed in total. The cruise line industry nets billions of dollars a year, supporting nearly 400,000 jobs annually with a payout of nearly 6 billion dollars in wages. The industry is projected to continue this growth with the promise of nearly 23 new cruise ships within the next few years. Most of these new ships will be mega cruise ships, carrying thousands of passengers at a time. For most cruise ships, the staff needed to run them is somewhere between 800 – 1,500 people, meaning that for every new ship there are thousands of cruise job opportunities! The projected growth model for cruise ships in the next few years will require on the upwards of 26,000 new jobs, on top of old jobs that will need to be filled due to normal turnover, making the cruise ship industry one of the best venues for those seeking secure employment opportunities.
Recent New Cruise Ship Launches:
Norwegian Escape (October 2015)
AIDIprima (October 2015)
Koningsdam (April 2016)
AIDA Cruises (unnamed) (March 2016)
Viking Sky (March 2016)
Ovation of the Seas (April 2016)
Harmony of the Seas (April 2016)
Regent Seven Seas Explorer (July 2016)
Viking Sea (Mid-2016)
Seabourn's Encore (October 2016)
Carnival Vista (May 2016)
Almost every year the cruise ship industry enjoys increases in passenger traffic, with ships transporting millions of North American passengers. In fact, North American passengers account for nearly 80% of total travelers. The global nature of this industry consistently recruits passengers from around the world and as a result, European clientele has seen considerable increases as well. As an industry whole, cruise lines have ports of call all over the world and offer destinations which include: the Caribbean, the Mediterranean, Central and South America, Transatlantic cruises, cruises throughout Europe, North African cruises, tours of the Pacific Islands, cold water cruises in Alaska or Antarctica and no less than hundreds of others. Cruise ships are touching the corners of the globe and bringing millions of passengers with them each year.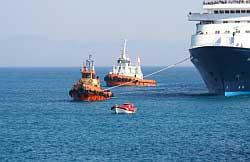 Perhaps the most popular type of cruise trip is a roundtrip cruise, returning passengers to the same port of call from which they left, visiting several other ports along the way. This allows easy travel plans to be made and limits the difficulty of organizing flights from different locations. Line Voyages, on the other hand, are increasingly popular and are typically organized around longer trips, sometimes for several months. These ocean liners begin at one port of call and end at another, often offering more travel locations in between because the ship doesn't need to return to its original port of call and thus, spends less time back tracking. River cruises are another option for the water-worthy traveler and are often smaller, with fewer amenities as a result of needing to navigate narrower passageways. These options all spawned from the need for transatlantic travel in the 1900s, a practical beginning for such a lavish vacation experience.
The first vessel was constructed in the early 1900s and soon more followed when the desire for transatlantic travel began to increase. It was then that ocean liners began adding luxury amenities to target high-end travelers and to increase competition. Staterooms and fine dining, casinos, ballrooms and other lavish amenities slowly became common cruise ship constructions and remain among the common amenities still onboard today. Soon these ocean liners began sending ships to other locations for the purpose of pleasure, marking the beginning of an industry – one mixing cruise ships and tourism. The introduction of the airplane and air travel however, hit the industry hard in the 1960's when jet aircrafts became a quicker and easier way to travel. Incredible setbacks occurred and cruise liners were only able to maintain a small clientele. It wasn't until later that the cruise ship industry revived, targeting ordinary people for luxury vacations. Pop culture icons of the 70s, such as The Love Boat and large boosts in advertising rejuvenated the public's interest in cruise ship vacationing. This revival was concentrated mostly around the Caribbean and Mexico but has since exploded into an industry that offers nothing less than the world. Exploiting the notion that some locations such as Antarctica are only accessible by ship has been another excellent selling point for the industry and cruise ships are now making it possible for people to visit remote and difficult to access locations. Today, cruise ships are a powerhouse of business and tourism allotting millions of people each year the enjoyment of this luxurious and accessible mode of travel.
Important message

Sign up today for the FREE Cruise Jobs Network newsletter! CLICK HERE