Jobs in the Activity and Entertainment department onboard a cruise ship are considered "Cruise Staff Jobs." These jobs deal directly with passengers and are often the most sought after because of their social nature. Some cruise staff positions are entry-level and available to all applicants, while others like Assistant Cruise Director, require experience in a related field. Cruise Staff jobs are best suited for social extroverts and people with lots of enthusiasm. Much of the work required by these positions takes place while socializing with guests and thus, a person who enjoys social activities and situations will be a good fit for work of this kind. Often times cruise lines consider Cruise Staff as the face of the ship and require that only the best manners and social graces be used when socializing with guests. Jobs of this sort are some of the most demanding and some of the most rewarding onboard.
Cruise Staff Jobs Include:
Art Auctioneer
It is common on a cruise ship to offer art from various galleries around the world available for sale. The Art Auctioneer is responsible for the sale and bid of these pieces to passengers on board.
Requirements:
-Knowledge of art and the art industry
-Excellent speaking skills and public presentation skills
-Retail experience; Art retail experience is especially desired
-Sociable and welcoming personality
Compensation for an Art Auctioneer is typically $2,000 – $4,000 a month.
Assistant Cruise Director
The Assistant Cruise Director is position that demands a lot of time and energy. The Assistant Cruise Director is meant to be visible to the passengers onboard at all times and thus is required to attend social events, dinners, evening shows and other social gatherings. The Assistant Cruise Director aids the Cruise Director in the organization and routine of the passenger's activities and helps to plan the events onboard the ship. The Assistant Cruise Director helps the host staff upon greeting the passengers each time they arrive onboard as well as when they disembark. The position is meant to portray a constant social presence and leadership to passengers onboard. The Assistant Cruise Director often hosts their own evening show and assists the director in any and all of his/her responsibilities.
Requirements:
-Strong public speaking skills
-Administration experience and knowledge
-Strong social skills and a sociable personality
-Well groomed and well mannered
-Previous experience onboard as a member of the Cruise Staff
Compensation for an Assistant Cruise Director is $1,500 – $2,000 a month DOE
Audio Visual Coordinator
The Audio Visual Coordinator reports to the Cruise Director and is responsible for all of the presentations onboard which require sound and audio. This includes the evening shows and rehearsals, lectures, band performances, staff meetings, etc. This role requires the A/V coordinator to be present at all performances and rehearsals and must assist in the setup and breakdown of all equipment.
Requirements:
-Previous experience in A/V programming
-A certificate of handling for A/V equipment or experience of the equivalent
Compensation for an Audio Visual Coordinator is $1,200 – $1,5000 a month DOE
Cruise Casino Staff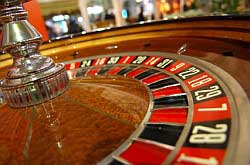 A member of the Casino Staff can include: Dealers, Casino Hosts, Technicians, Casino Managers and Cashiers. The hours and demands of the casino staff differ greatly depending on the clientele and the cruise line. Staff working onboard a ship with a younger clientele can expect longer hours than those who are working with an elderly guest list. Most cruise line employers require at least three years of experience in a major casino with work in at least two games. Because the casino is closed when the ship is at port and casino workers are not required to be on staff thus, casino staff positions are considered some of the best onboard. Some concessionaire companies work in casino placement and it is a wise venue to consider when looking for work of this kind.
Requirements:
-Work experience and knowledge in the gaming industry
-Direct work experience in a major casino
-A social and friendly personality
-21 years of age or older
-Knowledge of all games played in a casino
Compensation varies depending on position but is typically between: $1,000 – $3,000 a month
Cruise Consultant
This position requires employees to be in high traffic desk areas to provide consultation to the guests. More specifically, this person offers information on upcoming excursions and cruise events to guests. A Cruise Consultant also sells future cruises to members onboard. This position is guest-oriented and as a result, offers a lot of time off while the ship is at port.
Requirements:
-Good communication and social skills
-Sales experience
-Experience in the travel industry or PR is preferred
Compensations for a Cruise Consultant is $2,000 – $4,000 a month DOE
Cruise Directors
A Cruise Director is the most visible person to the passengers onboard. Originally, the position was entertainment based, but now takes on a more administrative role organizing onboard entertainment and supervising the other members of the cruise staff. Cruise Directors are still entertainers however and typically perform several times during the trip. Cruise Directors are usually people in the entertainment industry themselves, with extensive experience performing. However, cruise experience is necessary as well and most directors have worked their way up as a previous member of cruise staff and most have spent time as an Assistant Cruise Director. The qualities of a Cruise Director differ within the different cruise lines however, most have similar requirements for the job.
Requirements:
– Cruise lines almost always hire a cruise director from within their own cruise line. This is because an extensive understanding of the company is required for this position.
-At least 3 years experience working in the cruise line industry
-Strong social skills and talents
-Innovate thinking to inspire new programs and events
-At least a year of managerial or administrative experience
-Talent in performing
Compensation for a Cruise Director is $3,000 – $7,000 a month DOE
Dance Instructor
On top of performing for dances within various evening shows, dance instructors teach dances to passengers as well as organize classes. This position is popular for couples, who end up using each other as partners in dance instruction.
Requirements:
-Friendly personality and sociable nature
-Dance experience
-Experience as a dance instructor
-Dancers who graduated from an academy or who have competitive ballroom experience are shown preference
Compensation for a dance instructor is around $1,800 a month
Cruise Disc Jockeys
Disc Jockeys commonly work closely with other members of the audio/visual team and stage management to ensure cohesive show production. Those who have previous experience in the hospitality industry are highly considered because the position requires good social graces with guests and a sociable personality. Because of the large variation in age within the guests, disc jockeys on a cruise ship are required to have a large span of musical knowledge.
Requirements:
-Audio/Visual experience
-Experience as a Disc Jockey
-An appreciation for old music and an excellent understanding of new music
-A vibrant and social personality
-Willing to work late nights
Compensation for a disc jockey is $3,000 – $5,000 a month DOE
Water Sport Instructors, Lifeguards and Dive Instructors
It is common for cruise ships in beach climates to offer water instruction and dive certification to passengers onboard. Instructors are responsible for running classes and generating excitement for the programs onboard. They are required to have up-to-date, proper instructor certifications, as well as CPR. The water programs on each ship are different and thus, the demands of their instructors are different as well. Lifeguards are needed for the pools onboard and instructors with lifeguard experience are encouraged to apply.
Requirements:
-CPR certified
-Instructor's Certification (PADI, NAUI, WSI, SSI)
-Experience in water sport instruction
Compensation for Water Sport Instructors and Lifeguards is typically $1,750 – $2,000 a month DOE
Cruise Ship Entertainers
The role of professional entertainer onboard a cruise ship are some of the most difficult to obtain. Cruise concessionaire companies in charge of hiring for cruise lines and entertainment directors often receive an overwhelming number of audition tapes and materials each day and therefore professional entertainers with established acts have the best chance of winning a contract with a cruise line. The contracts granted to professional entertainers vary greatly. Some contracts exist for only the duration of one cruise, while others are asked to perform consistently over a few months. In some cases no compensation is granted other than the chance to perform however, room and board are almost always included. Those submitting materials for review need to provide their acts as documented on DVD, CD or VHS. Vocalists are asked to apply with proven routines accompanied with sheet music for orchestras and Comedians are required to have enough material to satisfy a 33-minute performance. Concessionaire companies are an excellent venue to explore when seeking employment as a professional performer onboard a cruise ship.
Requirements:
-Audition material in the form of DVD, CD or VHS
-Previous experience in the industry
-Sheet music to accompany act
-Entertainers are required to have 75 minutes of performable material
-Comedians are required to have 33 minuets of performable material
Compensation for Professional Entertainers onboard is $3,000 – $5,000 a month DOE
Gentleman Hosts
The position of a gentleman host is a unique job on a cruise ship. Especially in older crowds the ratio of men to women is often very skewed, so gentlemen hosts are hired by some cruise lines to serve as dance partners and social hosts during events onboard. It is common for these social hosts to be retired, single men and typically their services are offered in exchange for free travel and room and board. These hosts must be able to dance for several hours each night and must also be well versed in different types of popular dancing. Concessionaire companies offer this hiring service and some cruise lines hire gentleman hosts directly.
Requirements:
-The ability to dance, often for several hours
-Knowledge of dance: fox trot, ballroom, swing and waltz
-Age 50 or older and single
-Owns appropriate casual, semi-formal and formal clothing
-Well mannered and sociable
-Excellent conversationalist
-Likeable and friendly personality
There is currently no salary for gentleman hosts. However, the cruise line typically pays for airfare, living accommodations and in some cases provides a small spending stipend. Gratuities can be accepted.
Social Hosts and Hostesses
Social Hosts and Hostesses have a variety of responsibilities when it comes to interacting with the passengers. Meeting guests as they arrive onboard, answering questions and assisting groups during disembark as well as during excursions are just to name a few. Social hosts and hostesses are constantly in the eye of the public and their behaviors and personalities must reflect highly on the cruise line at all times. A background in hospitality or PR should be highly emphasized when applying.
Requirements:
-Outgoing, sociable personalities
-Organizational skills and abilities
-Applicants must be comfortable with public speaking
-Experience in PR, hospitality or applicants with previous cruise ship experience are encouraged to apply
Compensation for social hosts and hostesses is $1,500 – $2,000 a month DOE
Sound and Light Technician
A person in this role is responsible for working with the stage manager and AV teams to ensure the sound and light effects are functioning as they should during performances and presentations. They act as a technician and must be able to perform repairs.
Requirements:
-Previous work as a sound and light technician
-Must be well versed with sound boards and other technical equipment
-Previous work in a performance industry working with sound and light boards
Compensation for a Sound and Light technician is $1,700 – $2,000 a month DOE
Naturalists
Naturalists are experts who offer presentations and speeches onboard. Normally a naturalist is an expert on subjects of a given region and companies hire for cruises that take place in these respective regions. Naturalists are responsible for generating enthusiasm about a subject and the region of travel, as well as interacting with guests. Strong social and presentation skills are incredibly important. Naturalists must show the cruise line how their presence increases the passengers' interest in the cruise and their value is ultimately assessed in this manner.
Requirements:
-Naturalists must provide their own lecturing materials and visuals
-Knowledge of the region the cruise ship is traveling
-Applicants must have excellent presentation skills and must speak well publicly
-Enthusiastic personality
-Education or professional experience on the topics being presented
Naturalists are currently not paid. However, because of the benefit of having Naturalists onboard, living expenses, airfare and some benefits are usually offered.
Cruise Ship Photographer
Photographers are an integral part of the cruise ship staff. They are responsible for taking pictures of the guests during their time on the cruise. These pictures are available for purchase by the passengers and should document the activities of the cruise. A photographer must attend social events, loading and unloading, some shore excursions and is typically seen around the pool and other social areas onboard. Often times, pictures that were not purchased are used in catalogues and on websites for different cruise lines.
Requirements:
-Professional experience in the photography industry
-Social personality
-Observant and attentive to the actions of the guests
Compensation for a photographer is between $1,800 – $2,400 a month DOE
Port Lecturers
Specifically different from lecturers who provide information on the stores at port and from Naturalists who are region experts, port lecturers offer presentations on the specific history of the ports being visited. This along with a working knowledge of culture, natural history, life sciences, archaeology, marine biology, oceanography, astronomy, nutrition, finance and business are also requirements of a port lecturer. Needless to say a port lecturer needs to have expertise in the subjects of the region and must have a working knowledge in areas of passenger interest. Port lecturers are typically retired professors or educators and are sometimes researchers in a specific field.
Requirements:
-Formal education or experience in their area of presentation
-Provide visual aids and materials for presentations
-Experience with, and excellent public speaking skills
-Enthusiastic personality and attitude
There is no salary for Port lecturers but it is common for cruise lines to pay for airfare, room and board as well as to offer some benefits.
Shore Excursion Manager
The shore excursion manager is responsible for overseeing the excursions that take place in the various ports of call. He/She is also responsible for generating excitement for the different excursions as well as for making sure the excursions take place as they were advertised to the passengers. The excursion manager must be aware of all excursions available and the details of each, and must take care to ensure the excursions are well planned and executed. Organizational skills are a must and an administrative background is preferred. The excursion manager offers presentations and helps advertise different excursions. He/She must be available to answer questions pertaining to the different trips as well as be able to field complaints and concerns.
Requirements:
-Knowledge of the area being cruised
-Previous experience in the travel industry
-Experience as a cruise staff member and work as an assistant to the shore excursion manager
-Organizational and public speaking skills
-Social skills and a friendly personality
Compensation for a shore excursion manager is $2,300 – $3,200 a month DOE
Assistant Shore Excursion Manager/Shore Excursion Staff
Shore excursion staff and assistant shore excursion managers, staff the excursions that take place in the different ports of call. They also staff the informational booths to answer questions and to help book future excursions for guests. They must be able to field complaints and concerns with a positive and helpful attitude. Many of the positions available as excursion staff are entry-level and don't require previous experience in the travel industry. All members of the excursion staff assist the needs of the shore excursion manager.
An excellent way to begin in the industry is to work as a member of the land tour staff. Members of land tour staff stay in one specific area, Alaska for example, and only work when cruise ships arrive and depart. It is a wonderful way to gain experience in the travel industry, without moving around. These jobs are usually seasonal, with good hours.
Requirements:
-Willingness to work and learn the region
-Friendly attitudes and good people skills
Compensation is usually $1,000 – $2,000 a month.
Cruise Production Managers
Production Managers are responsible for a variety of important aspects in regard to the performances onboard. This position is for a highly skilled individual who has professional experience working with light and soundboards in the theatre or music industries. Repairs and troubleshooting are the responsibility of the production manager and the person in this role must works closely with the Cruise Director and members of the audio/visual staff.
Requirements:
-Professional experience working with light and soundboards
-Previous work experience in the entertainment industry
-Knowledge of modern equipment and basic repairs
-Administrative skills or experience
Compensation for a Production Manager is $2,000-$3,100 a month DOE
Youth Counselors
Youth Counselors are in charge of children's programs and in some cases, excursions. This role mostly includes fun activities and keeping a watchful eye over children while their parents are otherwise occupied. This position is in higher demand during the summer months, when children are off school and accompany parents more frequently on cruises. This job is ideal for college students who are off school for the summer and for those people who love kids.
Requirements:
-A person who loves children
-Experience in childcare, counseling, or work as a summer counselor
-Education in a related area
-Enthusiasm and energy
Compensation for a Youth Counselor is $1,000 – $2,400 a month DOE